TONGAAT HULETT PROPERTY, FUNDAMENTUM AND THE ETHEKWINI MUNICIPALITY PARTNER TO UNLOCK SHONGWENI'S POTENTIAL
16 August 2022
A new catalytic project in Durban's outer west region deploys innovative thinking that combines the efforts of the public and private sector to create long-term value for all stakeholders. 
The Shongweni Urban Core transaction, between local development company Fundamentum Property Group and Tongaat Hulett, with strong support of the eThekwini Municipality, will see a multi-phased development of Shongweni's Urban Core, the new city of Westown.
This trigger phase  of the Shongweni Urban Development, Westown, is a mixed-use precinct of urban and green spaces centred around the new retailing hub of Westown Square. This will be followed by a variety of other uses including residential, logistics, recreational, warehousing and leisure components.
Tongaat Hulett will benefit from sustained value creation over time, boosting the Company's strategy of evolving from outright property sales to earning annuity income from its property portfolio. The nature of the transaction is a 99-year lease,  an approach similar to the Waterfall development in Gauteng. This approach  allows Tongaat Hulett to retain ownership of the land, and be entitled to annuity income from the residential, commercial and mixed-use properties.
As the landowner, Tongaat Hulett, in partnership with Fundamentum as the Westown developer, is responsible for the Shongweni Urban Development's overall development vision and framework plan that aligns with public sector policy, plans and objectives. This vision extends to creating compelling and tailored real estate solutions for developers, investors, local community participants, future residents and end users within the Shongweni Urban Development.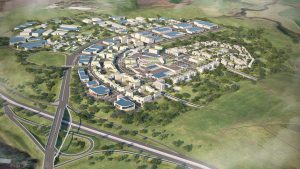 With the conclusion of this first alternative and innovative transaction, Fundamentum will oversee and manage all aspects of the development of Westown as it is developed over multiple phases and years.
Westown is the focus of this transaction, with current development rights for 517 000 bulk square metres. The retail offering of Westown Square see the first phase of 45 000m² of development rights taken up alongside a new 100-bed private hospital. This will be closely followed by commercial/business and residential developments within Westown.
Key to unlocking the development of Westown is a required infrastructure investment of circa R730million over the next 3years with the eThekwini Municipality committing to supporting this Catalytic Project with an initial R595 million.
The 99-year lease mechanism will, over time, deliver value in excess of the land value whilst retaining the asset of the land. The commitment by eThekwini and Fundamentum for infrastructure development removes a large obligation for the Group, both from a cash flow and a resource point of view. In addition, the development of Westown will have significant benefit for the balance of the 2 000ha Shongweni Urban Development, and will act as a catalyst for the further development of industrial, lifestyle residential and other uses.
Mtura Matshini, Tongaat Property Development Executive said: "The Shongweni Urban Development project represents an innovative partnership between local government and the private sector. In overcoming the current challenging economic environment, the partners have produced a solution which transforms a key part of the Tongaat property portfolio into an annuity generating asset. In harnessing our expertise in development, the entrepreneurial agility of Fundamentum, and the support on infrastructure from the eThekwini Municipality, the project will act as a catalyst to benefit the people of Shongweni for years to come."
For more information, contact: Mtura Matshini @ mtura.matshini@tongaat.com