TONGAAT HULETT PARTNERSHIP WITH JOBS FUND CONTINUES TO DELIVER SIGNIFICANT BENEFITS TO RURAL COMMUNITIES
21 May 2020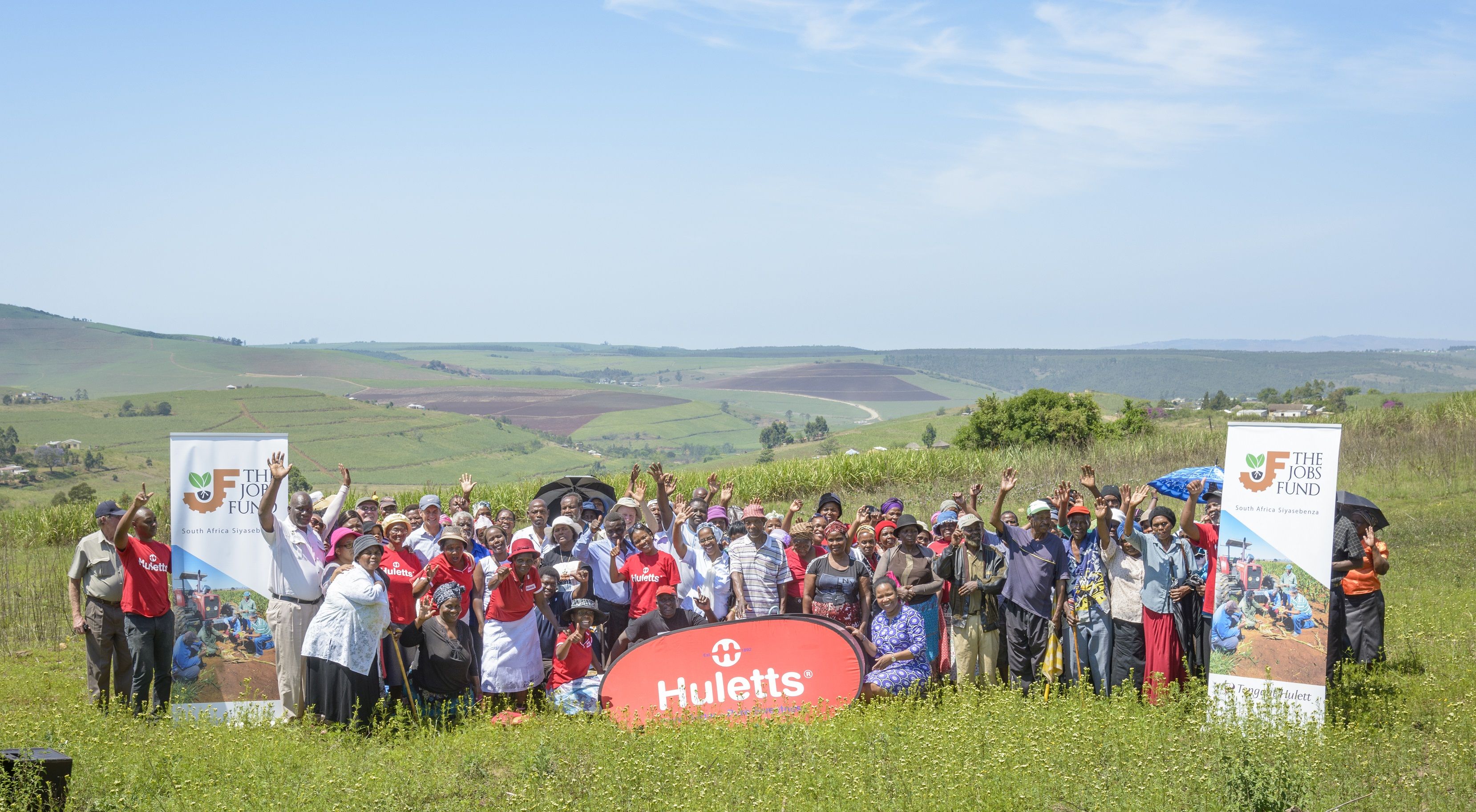 A partnership between Tongaat Hulett and The Jobs Fund to accelerate socio-economic transformation in rural communities, which began in 2014, has proven its worth with more than 5 800 people still benefitting from the project.
The initiative, which created more than 3 000 jobs in Northern KwaZulu-Natal – an area of significant unemployment and poverty – has delivered significant on-going benefits to thousands of people who would otherwise have limited sources of income. About R82-million has been distributed directly to beneficiaries in the past four production seasons – a significant amount given that it excludes the wage earnings generated by the project.
Tongaat Hulett CEO Gavin Hudson said: "Tongaat has for many years invested in surrounding communities to help address pressing socio-economic challenges. This initiative is a clear example of how business can work together with government in a sustainable manner to not only address unemployment, but to deliver ongoing benefits to communities.
"We are delighted that more than two years after the completion of the project, it continues to make a significant impact by providing incomes to thousands of people while at the same time productively farming sugarcane. For us, it was money well spent and that is most gratifying."
Najwah Allie-Edries, The Jobs Fund Deputy Director General: Employment Facilitation commented: "The Jobs Fund recognises the importance of developing strategic partnerships that result in innovative solutions to our country's unemployment crisis. It is inspiring to know that our partnership with Tongaat Hulett has yielded a sustainable income source to communities most in need. The Jobs Fund is also deeply appreciative of the communities' willingness to partner with us, too often they have been let down, without their co-operation we would not have had a viable project."
Tongaat and The Jobs Fund partnership together invested a total of R305 million in the initiative. It resulted in almost 11 000 hectares of sugarcane being planted over four years, with education, training and food security forming critical elements of the project.
Hudson said Tongaat was committed to making an ongoing contribution to social upliftment, rural development and job creation, particularly at this challenging time with the Covid-19 pandemic which was having a devastating impact on the economy.
"It is now more important than ever that companies such as ours step up and play their part. We are doing so in a variety of ways and the sustainability of the initiative with the Jobs Fund is an important element of how we believe business can support communities," he said.
Project Background
The project ran from 2014 to 2018. Key highlights of the initiative included:
• A total of 10 972 hectares of sugarcane was planted, made up of 10 082 and 890 hectares of dryland and irrigated sugarcane, respectively;
• The creation of 3,019 new jobs in less than four years, against an initial commitment to create 2,874 jobs;
• Jointly funded by Tongaat Hulett, which contributed R155 million, and The Jobs Fund with R150 million.
• Tongaat Hulett spent a further R103.2 million on additional contributions, which included community social facilitation work, overall project management and Socio-economic Development (SED) initiatives.
• Working in multiple land tenure arrangements and traditional authority structures, including both primary cooperatives and community trusts, with a total of some 5 897 member beneficiaries;
• Supported by the Department of Economic Development, Tourism and Environmental Affairs, the KZN Provincial Planning Commission and the Ingonyama Trust Board
• A total of 1,286 local community members were trained in a range of qualifications, from multi-year tertiary qualifications and certificate courses in farm management to on-the-job training.
• SED initiatives included food security, education and training, access to water for communities and livestock and cattle management, implemented through a range of partnerships with multiple stakeholders, including community members, Municipalities, Traditional Councils, the KwaZulu-Natal Department of Education, and the KwaZulu-Natal Department of Agriculture and Rural Development.
• Partnerships to address skills upliftment and training included the Owen Sitole College of Agriculture, the South African Sugar Research Institute and the Mfolozi Technical Vocational Education and Training (TVET) College.
Dr Jeff McCarthy, the project's independent monitoring and evaluation specialist, said the rural development and business process lessons of the project were particularly important, and the project could be regarded as best practice.

"Despite an extraordinarily difficult local land and political environment, project managers have been supported by stable partners with a long-term outlook. The local managers, in turn, have used a style that is sensitive to the community and they have implemented bespoke solutions to the unique characteristics of the area.
"Overall, communities have been pleased with the use of local labour, particularly with the unusually high proportion of women workers that have been engaged."