TONGAAT HULETT AND PARTNERS DRIVE AWARENESS CAMPAIGN ON COVID-19
21 July 2020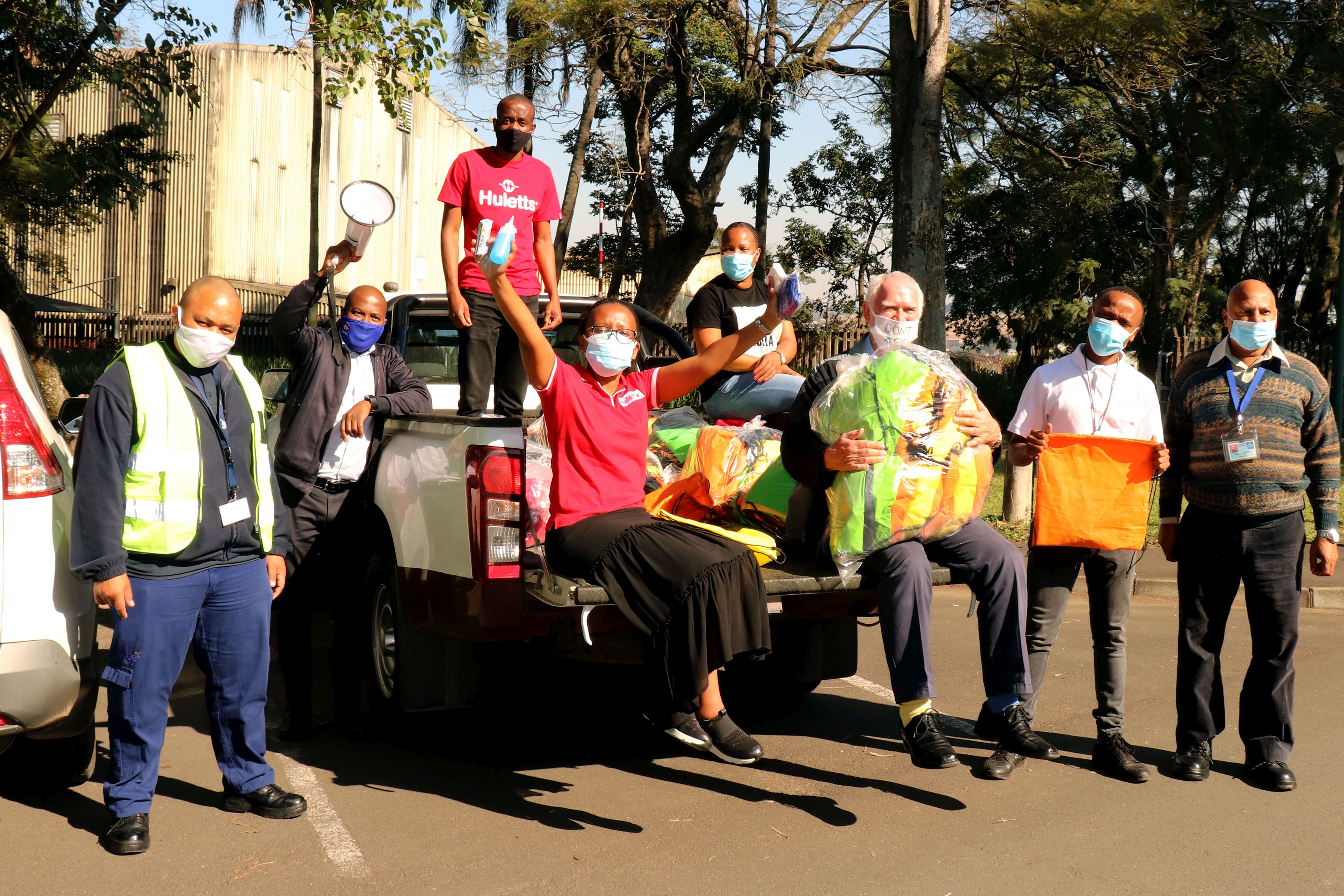 Durban, 20th July 2020: Tongaat Hulett this weekend launched a targeted campaign to drive awareness amongst key communities on COVID-19, including the importance of practicing good hygiene to reduce the risk of contracting the virus.
A total of 400 hand sanitizers, soaps as well as 1 000 cloth masks were distributed to children and adults in the areas of Magwaveni, Hambanathi and Tongaat Central in KwaZulu-Natal during the drive.
Tongaat Hulett Sugar Corporate Affairs Executive Nkonzo Mhlongo said that in the past few weeks, Tongaat Hulett had noted a significant increase in the number of company employees that were testing positive for COVID-19.
"We have also received an increased number of requests from the neighbouring schools including Nkosibomvu and Mbonisweni requesting Tongaat Hulett to sponsor the fumigation of their schools. To ensure an integrated approach in the company's response to COVID, Tongaat Hulett took a decision to form a COVID-19 Think Tank with stakeholders in and around the Tongaat area," said Mhlongo.
The members of the Think Tank included eThekwini Municipality – Health Unit; Dube Tradeport, ACSA, SAPS, Tongaat clinic and the Councillors for Wards 58, 61 & 62 in KwaZulu-Natal.
A key objective of the Think Tank was to create a platform for all stakeholders to share information regarding COVID-19. In addition, the Think Tank sought to identify sustainable interventions and programmes that will ensure that community members in and around Tongaat and Stanger remain healthy and safe during this time of COVID-19.
Mhlongo said: "It was against this background that Tongaat Hulett and its partners took a decision to organize an Awareness Campaign on 17 July 2020. All the stakeholders also took the decision to invest 67 minutes of their time and commemorate Nelson Mandela International Day.
The campaign focused on five key messages:
1) Act as if you have the CORONA virus – keep your distance – wash and sanitize your hands – and wear your mask
2) Limit your movement – stay at home
3) The CORONA virus is spread through reckless human conduct and behavior
4) Wearing a mask is mandatory – the mask protects the people around you
5) Practice social distancing and washing of hands regularly

BACKGROUND
COVID-19 is more than a health crisis as it has pushed communities and economies to a breaking point. It is rapidly exacerbating an ongoing food security and nutrition crisis. The disruptions have resulted in many businesses shutting down and people losing jobs.
Government has continued to put measures in place to limit the spread of the virus and provides statistical information for the various provinces. This statistical information shows that KZN continues to see a spike in COVID cases with eThekwini being one of the metros recording increased numbers over the last few weeks. The KZN Department of Health had reported that the province contributed 31% (last week) of the new cases reported nationally and was listed as the fourth highest countrywide.
The Nelson Mandela International Day is an annual international day in honour of Nelson Mandela, celebrated each year on 18 July Mandela's birthday. South Africans including corporates are called to devote 67 minutes of their time helping others. For 67 years, Nelson Mandela dedicated his life to the service of humanity.
In December 2015, the United Nations General Assembly also decided to extend the scope of the Nelson Mandela International Day to be utilised to promote humane conditions of imprisonment, to raise awareness about prisoners being a continuous part of society and to value the work of prison staff as a social service of particular importance. The General Assembly also approved the Standard Minimum Rules for the Treatment of Prisoners and approved that they should be known as Nelson Mandela Rules.