PROFILING PHUMZILE NTULI – INTERNATIONAL DAY OF RURAL WOMEN
26 October 2020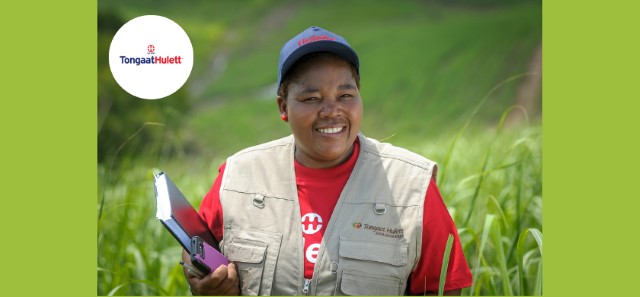 Rural women play a central role in supporting their households by generating income, ensuring there is food on the table for their families and improving the overall well-being of their communities.  They create and contribute to agriculture and rural enterprises and participate in a wide range of grassroots activities.  They also tend to spend far more time than urban women and men in agricultural activities ranging from establishing home food gardens to their participation in agricultural cooperatives. 
Mrs Phumzile Ntuli is based at Izindophi Reserve under the Mpungose Tribal Council and is one of the many rural women committed to extending the benefits of development to all the people in her community.  Izindophi is also one of the sugarcane growing communities that works in partnership with Tongaat Hulett. Ntuli grew up like all other young girls in the area.  She attended Khayalodumo primary school and Zwelithini high school in the area.  
Ntuli says: "Izindophi, like many rural communities, has always been negatively affected by high levels of unemployment, poverty, alcohol and drug abuse. I felt compelled to do something in order to change the circumstances of my community."
In 2005, she founded Qalekhaya Primary Cooperative with four other community members.  The primary objective of the Cooperative was to create employment for the youth and women in and around Izindophi.  Ntuli says she had seen that most of the women in rural communities were involved in raising chickens and felt something different was needed.
"During our assessment of the local environment, we saw and heard through media that learning in certain schools was being impacted by a lack of school infrastructure.  This is how the idea of establishing a Cooperative to manufacture school furniture was born," she says. 
The Cooperative manufactures school furniture for the majority of schools throughout KwaZulu-Natal. The Cooperative has grown to an extent that it now has 13 permanent employees and 7 temporary employees. Most of the employees are local youth who are now able to support themselves and their families.  The Cooperative continues to grow, and it is currently generating R1.5 million in revenue annually. 
Ntuli says: "As a Cooperative we noticed that the business of providing school furniture was seasonal.  However, we also saw that the demand for food was constant.  This was how the idea for the establishment of a food garden initiative was born.  The food garden initiative has enabled food insecure households to grow food and feed themselves. The highlight of this project is that it is not only feeding vulnerable households, it has grown to a point where the project selling its produce to the local businesses in and around Eshowe including the local Spar." 
The lockdown period has been when the Cooperative has been at its busiest – the demand for food was at its highest when most family members were at home. "Local businesses and communities wanted our produce and we had to ensure that we opened more areas in order to plant the various food crops," she says.
While Ntuli has continued to succeed against the odds, the Cooperative still struggles to access infrastructure.  Due to the lack of agricultural equipment, the Cooperative spends a lot of its financial resources hiring tractors from local farmers.  Going forward, they would like to own their own tractor so that they can plant more area and also generate an income through assisting local farmers in the area.
In addition, during the lockdown period, 20 volunteers from Shining Star Community Development, a Non-Profit Organisation (NPO) that was formed by the Cooperative, worked with government to raise awareness about COVID-19.  The NPO is also assisting socially vulnerable children by buying them school uniforms and supporting the local youth to participate in sports and recreation by encouraging sports in the community. 
Nkonzo Mhlongo, Tongaat Hulett Sugar Corporate Affairs Executive, says the empowerment of rural women continues to be a major focus of Tongaat Hulett's sustainable rural development approach. 
"Tongaat has invested resources in building the capacity of women in agricultural cooperatives and has implemented socio-economic development initiatives aimed at improving the social wellbeing of rural children, youth and communities. Our interventions have also stimulated local economies through the sugarcane development initiatives in and around the areas where the company operates," she says.