PROFILE: BUDDING ICT ENTREPRENEUR NJABULO MAPHUMULO
10 December 2020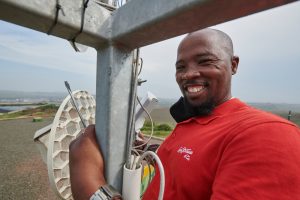 Njabulo Maphumulo is a budding entrepreneur who has worked hard to expand his Information and Communications Technology (ICT) business with the support of Tongaat Hulett.
Maphumulo said Tongaat Hulett's assistance since 2018 has been invaluable as it enabled the business to grow its capacity.  "The main reason I sought assistance from the start was to get access to fibre internet as I knew it would enable the business to provide faster internet access," said Maphumulo.
Tongaat Hulett also provided non-financial support by giving Maphumulo's business access to one of the towers which connects his antennas in the Tongaat area to the fibre source in Ballito. 
Since receiving financial assistance from Tongaat, the business has been able to sustain and add new customers.  Maphumulo's customers include those looking for fast and affordable internet access through a broadband service delivered wirelessly to the end users. Before getting financial assistance, the business experienced a lot of customer churn due to service degradation whenever demand increased. 
"Over the past 6 months, I have installed 12 new antennas in Tongaat and surrounding areas. My customers feed off these antennas. I am now able to provide faster internet. In the next 3 – 5 years Maphumulo aims to increase the number of active users on the network.
As part of company's strategy, the infrastructure growth has been kept at a minimal level to ensure that service quality does not degrade due to insufficient network capacity.
Maphumulo said that the business had focused strongly on providing service quality.  "This has meant that we can retain existing customers.  The current and future plan is to reinvest revenue back into the business by purchasing new hardware and establish new sites in other areas.  One of the challenges to scaling up is getting access to additional high and secure sites for mounting equipment but I have a plan for how this can be best achieved." 
Maphumulo has been working with local spaza shops as distribution channels for the data bundles.  He does not have a fixed number of customers since the service is prepaid and not contract based. 
"During school holidays, through the assistance of PROTEC, I was placed in an electronics repair shop which was in line with my love for technology says Maphumulo". PROTEC is a national non-profit organisation that runs excellence programme for learners from socially and economically disadvantaged backgrounds that have aptitude in maths and science.  The Tongaat branch is providing support to 91 students from Hambanathi, Magwaveni and Tongaat Central in KwaZulu-Natal.
PROTEC is now one of Maphumulo' clients.  With the financial support received from Tongaat Hulett, network hardware was purchased and installed at PROTEC and an uncapped internet is now provided to the NPO.
Maphumulo was born in KwaZulu-Natal and lived a nomadic life for the better part of his childhood where he stayed with his relatives Flagstaff & Bizana in the Eastern Cape.  Maphumulo moved to Tongaat in 2001 when he entered Grade 9 in Buffelsdale high school.   It was also in Buffelsdale where Maphumulo got his first exposure to ICT. "I learnt about computers and I was also exposed to computer programming," he said.
After completing his grade 12 in 2004 Maphumulo wanted to register for hardware engineering but could not do so due to financial constraints. In 2006, Maphumulo was accepted at the Durban University of Technology and studied architecture up to third year.  He did not complete his Diploma, again due to financial challenges which meant that Maphumulo needed to consider a different approach. He started doing research on a business that he could establish and went back to his first love of ICT. In 2017, established his company, Borderless Investment Group.
While Maphumulo has not yet achieved all his dreams, he is taking all the necessary steps to do so.  His advice to upcoming entrepreneurs is to have a vision and action it every day, no matter how long it takes.