CELEBRATING WOMEN IN AGRICULTURE
27 August 2021
The month of August which is commemorated as Women's Month is an opportune time to reflect upon women who have made an impact in agriculture.  
Tongaat Hulett is committed to supporting women in agriculture.  By creating and maintaining a vibrant working relationship with its female growers, contractors and all women in management and leadership positions in the various projects, Tongaat Hulett is creating a sustainable future for all. 
Nhlanhla Ntuli, Land Reform and Small-Scale Grower Manager, said over the years, the company has implemented a wide range of tailor-made farmer support models to ensure that there was structured and targeted farmer support. The models include the communal leasehold model; the small-scale grower support model; and the land restitution programme to support communities whose land has been restituted.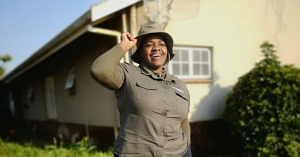 Under the small-scale grower support model, there are 10 038 growers working in partnership with Tongaat Hulett and 51 percent of these growers are female. The growers are responsible for directing all farming activities ranging from land preparation to the development of a harvesting plans during the milling season.
Under the communal leasehold model, there are 64 cooperatives representing some 5 000 growers and 1 894 of these cooperative members are female growers who have made their land parcels available for sugarcane development.  These women are also actively involved in food security projects in their communities.
In addition, there are 17 communities that are working in collaboration with Tongaat Hulett under the land restitution programme. These restitution projects represent approximately 3 600 beneficiaries, of which more than 35% are women.
It is thus clear that women are an integral part of Tongaat Hulett's agricultural activities as well as the sugar industry.
The following are some of the women playing important roles within this sector. 
Thobeka Zungu is a 29-year-old who is part of the Nkumbuleni agricultural project, a restitution project under uMkhambathini municipality. Thobeka works as a junior farm manager, responsible for 31 employees and 323 hectares under sugarcane. She has been in this role since 2018. 
Thobeka is responsible for ensuring that planting, harvesting and ratoon management are implemented on the farm. Under her direction, the operation continues to grow, Nkumbuleni trust's tonnage increased from 19 200 tons in 2019/20 to 22 000 tons in 2020/21 season.
Thobeka believes that women who are members of restitution projects bring skills and different perspectives which help the trust to flouring while managing conflicting views in a progressive manner. 
Nonhlanhla Linda is a 57-year-old female contractor providing agricultural services to growers in communal areas.  Nonhlanhla is the owner of Kwanda Intwenhle Investments and she is operating under the Mandeni Local Municipality and the King Cetshwayo District Municipality. 
Since 2018, Nonhlanhla has provided contracting services to the following cooperatives responsible for 78 hectares combined: KwaDlamu, Asikhulisane, Ultimate Change, Mahlonyane and Dikiza Mlimi.  Through the provision of contracting support, the five cooperatives combined, have been able to create 78 seasonal employment opportunities and provide livelihood to 25 cooperative members.
Nonhlanhla said: "As a woman contractor, I have to work twice as hard to prove my ability and gain trust of the communities I have had the opportunity to service. The number of women operating as contractors or providing a service to farmers remains small. Women find it challenging to own equipment required to run a successful contracting business, due to lack of access to finance."
Lungile Nkosi is a 37-old administrator at Qwabe Nkanini Communal Property Association which is part of the Ilembe District Municipality. The Association consisting of 189 beneficiaries and has 663 hectares under sugarcane. During the 2020/21 season, the Association delivered 21 300 tons and created 75 seasonal jobs for the local community members.
Lungile said "being a female in a male dominated industry is a challenge because sometimes your skills and capabilities are questioned without reason".
Nkonzo Mhlongo, Corporate Affairs Executive at Tongaat Hulett, said the agricultural sector is the most important creator of employment for women mainly in rural communities.  Ensuring that women participate meaningfully in farmer organisations, restitution projects and cooperatives will improve food security, promote local economic development and accelerate women participation in leadership positions.