Sustainability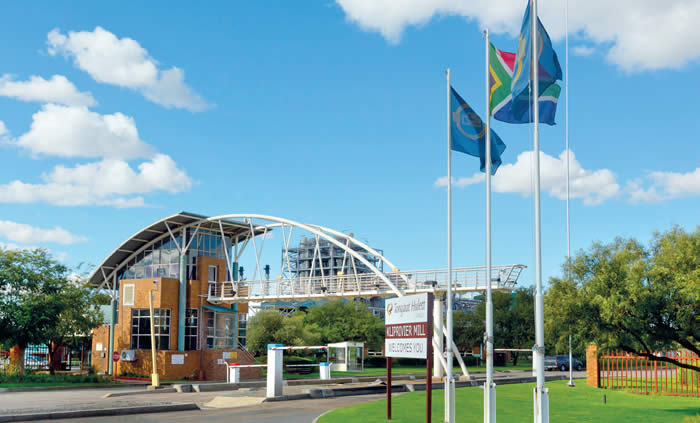 Entrance to Kliprivier Mill
ACHIEVEMENTS

The South African Department of Labour commended Tongaat Hulett for surpassing its numerical goals in terms of race and gender per its Employment Equity Plan
The Product Water Footprint for 1kg of refined sugar in South African operations is lower than the global average
Hippo Valley Estate's HIV/AIDS management programme has been acknowledged as a globally commended programme by the Global Business Coalition
Achieved a Lost Time Injury Frequency Rate (LTIFR) of 0,094 per 200 000 hours worked
Xinavane Agriculture operations, with an average of 6 590 employees, completed 27 678 600 lost time injury (LTI) free hours
Mafambisse achieved 16 761 567 LTI free hours, surpassing the previous record of 10 million LTI free hours

PRIORITIES

Facilitating the development of successful indigenous sugar cane farmers and contributing to job creation and rural development in the regions which the company operates
Working with indigenous private farmers to develop farming models that enable efficient sugar cane growing and meet the food security imperative
Energy efficiency and reduction of GHG emissions
Efficient water resources management
Focus on safety improvement
STRATEGY AND ANALYSIS
Tongaat Hulett has a significant presence in agriculture and agri-processing sectors in the Southern African Development Community (SADC). The business works with communities, Governments and other partners to meet some of SADC's pressing challenges: including job creation, food security, rural development and the provision of renewable energy. The company places value on being regarded as a responsible corporate citizen and therefore continues to strive towards creating value for its stakeholders in a responsible manner, that considers relevant legislation and key sustainability themes of safety, health and environment. Tongaat Hulett is of the view that good communication and open dialogue are vital components of understanding and meeting the expectations of the investment community, small-scale and commercial private farmers, local communities, governments, its employees and all other stakeholders. The business is committed to creating value for its stakeholders in an ethical manner, that takes cognisance of ongoing developments in its environment and therefore the organisation aims to report on its activities in a transparent way.
The company joined the United Nations (UN) Global Compact in 2012. This initiative was started in 1999 by the UN to promote good corporate citizenship and companies can, on a voluntary basis, comply and report on the principles published on the website of the UN Global Compact - www.unglobalcompact.org. The Compact comprises ten major principles from the areas of human rights, labor standards, environmental protection and measures to combat corruption. Tongaat Hulett is committed to implementing the principles embodied in the Global Compact into its operations. As such, part of the communication on progress is included in some of the elements in this integrated annual report.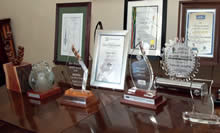 External recognition
The company is in its fourth year of focusing on the following key strategic sustainability related parameters:
Contributing to the development of successful rural communities, including indigenous farmers of sugar cane and other staple food crops, within the areas that surround business operations.
Training and support for private farmers on better farming practices and resourceful land use to ensure food security. This includes training youth from rural sugar cane communities on relevant agronomy techniques.
Effectively managing the opportunities and risks created by climate change and responsible carbon management.
Ensuring that management is able to address sustainability in all areas of the business.
Managing water resources and increasing resource efficiency in a responsible manner.
Playing an active role in the renewable energy sector in the region.
Ensuring that its products meet required food safety standards.
Creating sustainable cities, towns and rural settlements.
Creating operational efficiencies, cost management and effective strategic procurement.
The attainment of these parameters is underpinned by the company's employees who play a significant role in implementing various strategies over the medium term. In order to ensure that Tongaat Hulett delivers on its strategic objectives, the company will continue to create an enabling environment that allows high performing employees to excel, while offering equal opportunities for growth and development. The company is on an evolving journey to play a significant role in transforming the region and meeting future growth opportunities in a sustainable manner.
Key Impacts, Risks and Opportunities
The current operating environment has many challenging and changing elements, especially in the context of the global economy, peculiar localised dynamics and evolving environmental and social factors. Maximising the emerging opportunities from these risks is possible once the appropriate risk mitigation strategies and processes have been developed and implemented. Further information regarding the business's approach to risk management has been included in the governance section of this integrated annual report.
Reporting Boundaries
Following the previous integrated annual report, published for the period 1 April 2011 to 31 March 2012, this report covers all of Tongaat Hulett's operations in Botswana, Mozambique, Namibia, South Africa, Swaziland and Zimbabwe for the 12 months ended 31 March 2013. Tongaat Hulett's geographical presence is contained here in this integrated annual report.
The report has been prepared in accordance with the Global Reporting Initiative (GRI), and meets the requirements of their B+ reporting level and has been independently assured by Integrated Reporting & Assurance Services (IRAS). Tongaat Hulett is committed to the principles of sustainability which encompass the organisation doing business in a responsible manner that acknowledges accountability to its stakeholders. This report considers the key themes of Environmental Stewardship, Social Stewardship and Economic Sustainability.
There have been no re-statements of any data previously reported by Tongaat Hulett.
Where We Operate
Botswana, Mozambique, Namibia, South Africa, Swaziland and Zimbabwe
Leading Brands
Some of Tongaat Hulett's most popular brands are Amyral maize starch, Voermol, Hyclear glucose syrup, Zimbali, Izinga, Huletts, Blue Crystal, Marathon, Equisweet, SUGAlite and Sugar Joule.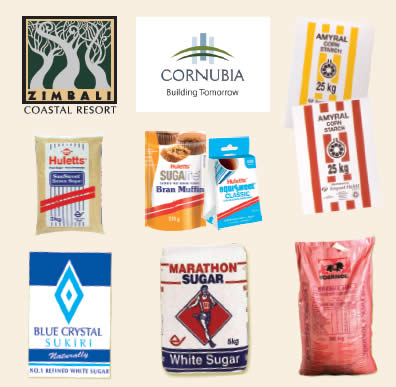 Value Chain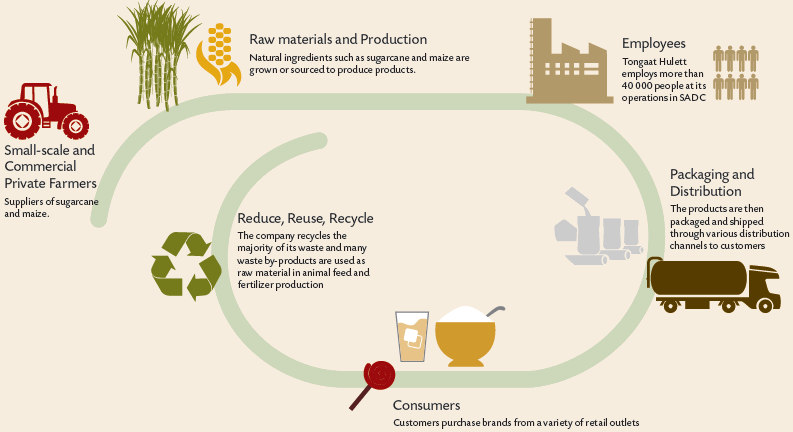 Organisational Profile
The company is an agricultural and agri-processing business, which includes integrated components of land management and property development. With its established and growing operations, it has considerable expertise in downstream agricultural products, biofuel production and electricity generation.
As at, 31 March 2013, Tongaat Hulett had 39 246 employees, working in 27 locations in 6 SADC countries, Botswana, Mozambique, Namibia, South Africa, Swaziland, and Zimbabwe. The water-food-energy nexus is an evolving dynamic that presents both opportunities and risks. The business is well positioned to deliver integrated solutions that will transform the way that sugar cane and maize is grown in the region, and extend its contribution beyond increased yields.
The company evolved from a diversified business, previously known as The Tongaat-Hulett Group Limited, to a focused business with the final step being the listing of Hulamin and the renaming to Tongaat Hulett Limited. The business was originally formed when the Tongaat Group Limited merged with the Huletts Corporation Limited. The Tongaat Group Limited evolved from a partnership between Edward Saunders and W J Mirrlees, which dates back to 1875, while the Huletts Corporation has its beginnings in the 1850's. Tongaat Hulett has a primary listing on the Johannesburg Stock Exchange, which dates back to 1952, and a secondary listing on the London Stock Exchange, which dates back to 1939.
Sustainability Indicators
INDICATOR
2010/11
(12 months)
2011/12
(12 months)
2012/13
(12 months)
Performance
Revenue
R9,681 bn
R12,081 bn
R14,373 bn
Annual Dividend per share (cents)
250
290
340
Number of employees at year end
39 314
41 777
39 246
Fatalities
4
2
3
LTIs
50
61
56
Water used in manufacturing
–
10 258 167 m3
8 400 685 m3
Carbon footprint (total tons of CO2-e)
1 120 634
1 027 569
1 246 234
The business's key focus areas of sustainability include stakeholder value creation, safety, health, environment, developing successful indigenous farmers, broad-based black economic empowerment, human resources and skills development, talent management, employment equity, socio-economic development, stakeholder engagement and corporate governance.
The company is committed to ensuring the safety of its employees. In spite of this commitment, there were unfortunately three fatalities for the year ended 31 March 2013. Tongaat Hulett continues to roll out its safety plans, which focus on high risk areas, including the identification of high risk activities and additional interventions in order to minimise a recurrence of these types of incidents.
Tongaat Hulett's corporate office is located in Amanzimnyama, Tongaat, KwaZulu-Natal. During the reporting period there were no significant changes in the size, structure or ownership of the company and the business grew the extent of land under sugar cane supplying its mills and the number of people that it employs. There was a reduction of some one thousand four hundred seasonal and contract employees during the current period. In addition, changes in operational requirements resulted in the retrenchment of 43 employees.

top of page