SAFETY
Tongaat Hulett's labour intensive operations reflect a workforce complement rising to nearly 40 000 during the season's peak period and consequently exposes the company to occupational safety risks, considering that the bulk of the workforce would be engaged in manual activities and the operation of machinery. The company is driving a 'zero harm' campaign that seeks to transform its organisational culture from one that influences stakeholders to be dependent on management support and systems, to an interdependent culture where individuals look after each other and prevent injuries across the company's stakeholder society.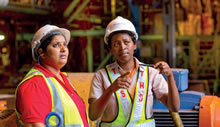 Safety in action
During the past decade, the company's safety performance improved significantly in terms of fatalities and serious injuries that result in loss of time. While three fatalities recorded in 2012/13 seem to have reversed a fatality reduction trend observed from eleven in 2009/10 to four in 2010/11 and two in 2011/12, fatality risk controls in place are deemed to be appropriate. An analysis of fatalities recorded at Tongaat Hulett operations during the past five years revealed that 79 percent of them were related to vehicle operations, 13 percent to safety fundamentals, 4 percent to working at heights and another 4 percent to material handling activities. All of these causal factor categories form part of Tongaat Hulett's six main fatality risk control standards, commonly known as Huley Rules. Additional interventions that include peer review exercises are being applied to complement the effectiveness of these controls and thereby eliminate fatalities. More focus is being directed at managing the highest risks associated with vehicular operation, where specific interventions include enhancing Tongaat Hulett customised defensive driver training, increasing vehicle performance monitoring devices on high risk vehicles and introducing a 'Safe Driver Competition' with a view to encouraging safe driving performance by employees whose occupations entail driving.
A Lost Time Injury Frequency Rate of 0,094 was achieved for the first time since formal SHE management systems were established. The LTIFR of 0,094 reflects an improvement from a stagnant LTIFR of 0,10 recorded in the previous two years.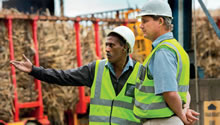 Mill start-up
Tongaat Hulett continues to work towards influencing stakeholders with a view to encouraging safe behaviour and participation in various SHE initiatives, so as to realise 'zero harm'. Private cane farmers were identified as some of Tongaat Hulett's important stakeholders, with an almost direct impact on the safety performance of the organisation considering their continuous involvement with Tongaat Hulett's operations, particularly in cane delivery where farmers' vehicles enter Tongaat Hulett's premises. A structured engagement process to secure buy-in and subsequent take up of Tongaat Hulett's SHE management systems will be enhanced in the coming year.
Food Safety
Tongaat Hulett has, over many decades developed a reputation as being a producer of high quality products. In order to ensure that this reputation is maintained, the company manages its maize requirements on a non-genetically modified basis using a sophisticated identity preservation system. The use of this system enables the company to meet the needs of its customers in the food industry.
In addition, ongoing attention is paid to the requirements of ISO 9001, the Hazard Analysis Critical Control Point system (HACCP) and ISO 22000, in terms of quality and food safety standards at all operations. These systems are in various stages of being certified by the South African Bureau of Standards (SABS).
Sugar is a natural carbohydrate sweetener of plant origin. Sugars made by plants are classified as sucrose, glucose and fructose. All three are found in varying amounts in most fruits and many vegetables. All carbohydrate rich foods, once digested, provide glucose, the primary fuel for the body. The source of the carbohydrate is not significant in a dietary context. The sucrose from sugar cane is identical to the sucrose present in fruits and vegetables.
The growing incidence in chronic lifestyle diseases such as diabetes, cardio-vascular disease and obesity, especially in children, has focused the attention of policy makers and the media on the consumption of sugar, and the potential contribution of this essential ingredient to the lifestyle disease epidemic. Certain reporting on sugar consumption has led to excessive and negative speculation regarding the value of sugar as part of a balanced diet.
Eminent bodies such as the World Health Organisation and the Food and Agricultural Organisation (2003) and the European Food Safety Authority (2010) have examined the scientific evidence relating to the consumption of sugar and other carbohydrates. These bodies have concluded, from a summary of the available evidence, that sugar is not the direct cause of lifestyle diseases such as diabetes, heart disease, obesity or cancer. During 2010 the International Food Information Council Foundation (IFIC) stated that "consumers can continue to enjoy modest amounts of sweetened foods and beverages as part of a healthy diet and lifestyl".
PERIOD
Actual 12 months to
31 December 2011
Actual 12 months to
31 March 2012
Actual 12 months to
31 March 2013
Limits 12 months to
31 March 2014
 
LTIs
LTIFR
LTIs
LTIFR
LTIs
LTIFR
LTIs
LTIFR
Sugar
42
0,08
45
0,09
47
0,08
-
0,07
Starch
8
0,53
8
0,40
8
0,58
4
-
Developments
0
0,00
0
0,00
0
0,00
0
0,00
Consolidated
50
0,10
61
0,10
56
0,094
-
0,095

top of page