Tongaat Hulett and its
Strategic Positioning
Tongaat Hulett is an agricultural and agri-processing business which includes integrated components of land management and property development. Through its sugar and starch operations, Tongaat Hulett produces a range of refined carbohydrate products from sugar cane and maize. Renewable energy, in the form of biofuel production and electricity generation, is of increasing importance to the business. The water-food-energy nexus is an evolving dynamic as the world contends with the growing impact of climate change. Tongaat Hulett balances the operational requirement for sugar cane supplies to its cane processing operations with other priority uses of agricultural land and its transition to higher value uses at the appropriate times. The current focus prioritises the business leveraging its asset base in six Southern African Development Community (SADC) countries. Tongaat Hulett is well placed to capitalise on the company's unconstrained access to sugar markets and its independent position and established business platform and size.
The business has, over the past century established a firm base with operations in six SADC countries, namely Botswana, Mozambique, Namibia, South Africa, Swaziland and Zimbabwe. A consequence of the agricultural seasonal nature of the business is that employment numbers fluctuate during the year, and from year to year. Tongaat Hulett normally employs more than 40 000 people and while it is difficult to estimate the exact number of people employed by private farmers who supply its starch and sugar operations, there is a high probability that this number exceeds the company's employee complement.
More than 300 000 hectares of land in the SADC region supply the business's sugar and starch operations. In South Africa, approximately 150 000 hectares of private land under maize, supply the four starch operations. In Mozambique, South Africa, Swaziland and Zimbabwe more than 150 000 hectares of land under sugar cane supply cane to eight Tongaat Hulett mills and two 3rd party mills in the case of Swaziland.
Tongaat Hulett's ability to engage innovatively with, and create stakeholder value within and from regional socio-economic dynamics and regulatory environments underpins its activities in the agriculture and agri-processing sectors. The growth and development of the company's operations, in the selected regions in which it operates, have involved establishing credible partnering relationships with farmers, local communities, governments and employees over many years. Tongaat Hulett's independent status and local ownership is important to the continuation of these relationships. The company is building on its existing relationships as Tongaat Hulett seeks to continue being viewed as the partner of choice to all of its stakeholders.
SUGAR OPERATIONS
The global consumption of sugar for the 2012/13 year is scheduled to amount to 174 million tons. As global demand for sugar continues to grow at 2 percent per annum, this currently equates to an additional 3,5 million tons of sugar. Traditionally, this growing worldwide demand has been met by Brazil but this position has changed. The Brazilian dynamic has been a significant contributor to the general rise in sugar prices when compared toprices some 8-10 years ago. This has created opportunities for other regions including Sub-Saharan Africa, which has ample unutilised arable land and currently uses less than 10 percent of its available fresh water. The company's leading sugar brands and existing distribution networks will enable the business to benefit from the growing per capita consumption of sugar in the SADC region.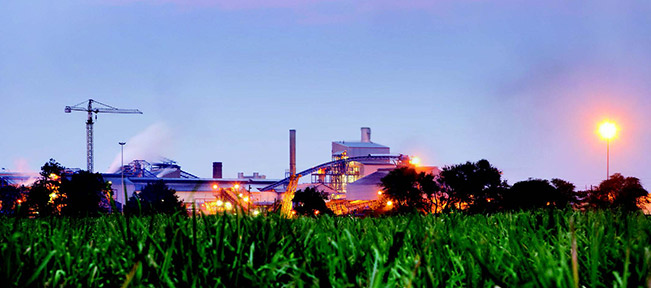 Tongaat Hulett's sugar production grew by 248 000 tons in the past 2 years. To establish a 200 000 ton Greenfield operation in Africa
(including infrastructure, agricultural assets and a sugar mill) will cost between R5 billion and R6 billion.
Tongaat Hulett's strategy is to expedite an increase in sugar cane supplies to its operations in Mozambique, South Africa and Zimbabwe. Numerous cane supply initiatives that include the development of indigenous sugar cane farmers are underway in all the sugar operations. In the 2012/13 season Tongaat Hulett grew sugar production by 104 000 tons and produced 1,254 million tons raw sugar equivalent. This increase was preceded by growth of 144 000 sugar tons in the previous season. One of the key requirements to increase the quantum of sugar cane supplies to the mills is the replacement of old roots. This requirement, coupled with ongoing improvements in farming practice will have a significant impact on the sugar cane yields.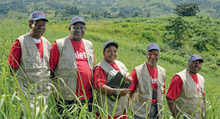 Tongaat Hulett is assisting with the
development of small-scale
private farmers in South Africa
The increased sugar volumes will also lead to a substantial reduction in the unit cost of production, as the use of existing milling assets will be optimised. This strategy will include extending the milling season lengths, optimising cane supply logistics, sweating the mills to optimise up-time and minimising mill downtime and debottlenecking the mills at a moderate cost, by upgrading or installing plant to remove capacity bottlenecks. The high cost of establishing greenfield enterprises in Africa, which currently ranges between R5 billion to R6 billion (including infrastructure costs agricultural assets and a sugar mill) for 200 000 tons sugar production per annum, supports Tongaat Hulett's objective of maximising its sugar production through its existing asset base, as its continues to increase its sugar cane supplies.
A fundamental review has been launched to re-examine all bought-in goods and services in the business. Included in this review is the company's approach to strategic procurement, which has been identified as having the potential to contribute to the reduction of costs. In addition, with between 80-85 percent of sugar milling costs being fixed, Tongaat Hulett will continue to benefit from the reduction of the unit cost of production as the business further benefits from its growing sugar production.
MOZAMBIQUE
The Mozambique sugar operations consist of the expanded sugar mills and estates surrounding Xinavane and Mafambisse. As at 31 March 2013, 22 072 hectares of Tongaat Hulett miller cum planter was farmed under sugar cane with 5 752 hectares under private grower and community-based schemes. Sugar production capacity at the Xinavane mill is now more than 240 000 tons in a 32 week crushing season while the Mafambisse mill has an existing 90 000 tons of sugar production capacity. The two Mozambique operations have a combined installed milling capacity to produce in excess of 330 000 tons sugar per annum. The sugar estates are irrigated and are generally located in areas with favourable growing conditions, resulting in high cane and sucrose yields. These favourable agricultural conditions, close proximity to ports, and the technical support from South Africa, position the Mozambique operations well for further growth.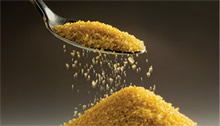 Global demand for sugar continues to grow
at approximately 2% per annum
SOUTH AFRICA
The company's South African sugar operations, on the KwaZulu-Natal north coast and in the Zululand region have four sugar mills at Maidstone, Darnall, Amatikulu and Felixton. These mills have an installed capacity to crush 8,5 million tons of cane per annum which is equivalent to approximately 1 million tons of raw sugar. The operation's central refinery at Durban produces some 600 000 tons of refined sugar per annum. The South African sugar product range offers a total sweetener solution including a range of high intensity sweeteners. The value of the company's Huletts® brand continues to be optimised in South Africa, the largest sugar market in the SADC region. The Huletts® brand remains the leading sugar brand in the South African direct consumer market.
ZIMBABWE
The sugar operations in Zimbabwe consist of Triangle and a 50,3 percent stake in Hippo Valley Estates, representing a combined installed sugar milling capacity of more than 640 000 tons. As at 31 March 2013, the Zimbabwe operations comprised 44 519 hectares of sugar cane land with a potential to produce in excess of 3,0 million tons of sugar cane. Private farmers were initially allocated 15 880 hectares of land through the SusCo project which is ongoing. Based on Tongaat Hulett's view of its existing mills, a further 600 farmers on 12 700 hectares could supply an additional 1,4 million tons of cane per annum. The Triangle and Hippo Valley Estate sugar mills have a combined annual milling capacity of about 4,8 million tons of cane. The total refined sugar installed capacity is 140 000 tons and the Triangle Estates ethanol plant has an installed capacity of 40 million litres over a 48 week production season. The lowveld in Zimbabwe, with excellent topography, climate and established water storage and conveyance infrastructures for irrigation, is recognised as a globally competitive sugar producer. While the macro-economic environment in Zimbabwe has settled significantly, the political environment remains turbulent as many political factions continue to compete for ascendency, which may impact operations.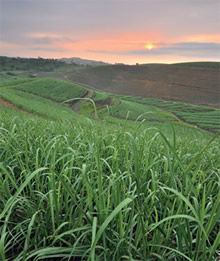 Eshowe KZN
EU MARKET ACCESS
The Mozambique, Zimbabwe and Swaziland operations currently enjoy "duty and quota free" access into the EU, which is ongoing. The basis upon which sugar in the EU is managed in terms of beet quotas and reference pricing, amongst others is generally referred to as the "EU sugar regime", a component of the EU's much broader Common Agricultural Policy (CAP). The CAP is currently under review including the sugar regime, with the existing dispensation in respect of the latter in place until 30 September 2015.
The limiting of beet and iso-glucose production through quotas and the embedded domestic price support that this infers, means that any sugar production in excess of these quotas must be exported, but only to a maximum of 1,4 million tons in any year in terms of a WTO ruling. The ending of beet quotas is being considered as part of the review of the CAP, with September 2015, September 2017 and September 2020 being mooted by various institutions involved in the review. Whatever the outcome, the existing annual sugar consumption demand of some 17 million tons will need to be met and a number of high cost European sugar producers will not remain profitable close to the current world market price.
SWAZILAND
Tongaat Hulett's sugar cane estate in Swaziland is situated in the north-east of the country and comprises 3 838 hectares of fully irrigated estates of which some 3 740 hectares is harvested annually. Tambankulu Estates is an agri-business based on two agricultural estates straddling the Umbuluzi River. The estate has consistently achieved excellent sucrose yields due to the good soils and growing conditions in the region and delivers its cane to the nearby Simunye and Mhlume sugar mills.
BOTSWANA AND NAMIBIA
The Namibian operation has the capacity to pack and distribute 80 000 tons per annum using its market leading Marathon® brand. In Botswana, Tongaat Hulett has a 60 000 tons per annum packing and distribution operation and markets the leading Blue Crystal® sugar brand which continues to benefit from the growth in per capita consumption.
STARCH OPERATIONS

Kliprivier Mill
Tongaat Hulett's wet-milling operation is the major producer of starch and glucose on the African continent. Established in 1919, the starch operation has grown to be an important supplier to a diverse range of South African and African industries. Operating four wet-milling plants, located in Kliprivier, Germiston and Meyerton in Gauteng and Bellville in the Western Cape, Tongaat Hulett converts more than 600 000 tons of maize per annum into starch and starch-based products. The business manufactures a wide range of products, from unmodified maize starch to highly refined glucose products, which are key ingredients for manufacturers of foodstuffs, beverages and a variety of industrial products. The company's Amryal corn starch, Hydex and Vaalgold Gluten 60, remain some of the leading starch, glucose and feed ingredient brands in South Africa. The business operates a dedicated Sorbitol facility which is located in Chloorkop in Gauteng and has distribution networks and facilities in Zimbabwe, Australasia and the Far East.
The expansion of the economically active population in South Africa is positive for the volume growth of these products and with the ability to increase production, from installed milling capacity the company is well placed to benefit from increased demand. The world is continuing to evolve in terms of the selection of a feedstock for the production of sweeteners, with both maize and sugar cane being suitable alternatives. Tongaat Hulett's significant investments in the production of sweeteners using both feedstocks will ensure that the business is well positioned to benefit from global developments in this area.
The increased global demand for convenience food products has encouraged the development of modified waxy starch products and represents a growth opportunity for Tongaat Hulett. The starch operation is evolving its market mixes and is introducing new product portfolios which will assist in improving current capacity utilisation and provide an increase in the range of value added products. The commissioning of modified starches at the Meyerton facility and the increase of the enzyme syrup capacity for the coffee creamer sector are key projects to unlock improved capacity utilisation.
ANIMAL FEEDS
The company's animal feeds operation, Voermol Feeds, is located at the Maidstone mill in Tongaat KwaZulu-Natal. Tongaat Hulett manufactures and markets a range of energy and supplementary feeds to the livestock farming community through its Voermol® brand. The production and marketing of high quality, cost effective products over the past 50 years, combined with the development of long-term relationships with farmers, agricultural companies and suppliers, has established Voermol Feeds as the market leader in the molasses and pith-based animal feeds industry in South Africa. The animal feeds manufacturing process is a cornerstone of the downstream value-added activities using both bagasse and molasses, and with the established platform that exists, there is potential to expand this footprint into the SADC region, with Zimbabwe being the first possible phase in this expansion.
The co-products that are produced during the starch and glucose manufacturing process in South Africa, supply feed into this industry.
RENEWABLE ENERGY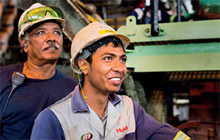 Employees at Darnall Mill
The global sugar industry has seen a fundamental shift take place, as increasing quantities of sugar cane are directed at renewable electricity generation and ethanol production as an effective carbon dioxide (CO2) mitigation strategy and an alternative to crude oil based fuels. The need to create jobs and the crisis in electricity supply in South Africa, together with the carbon mitigation drive, will continue to maintain the focus on the development of renewable energy.
The electricity planning of the South African Department of Energy focuses on the development of renewable electricity and energy efficiency such as cogeneration through Independent Power Producers (IPPs). No additional coal based power stations by ESKOM are included in the 2010 to 2030 plan. The electricity procurement through IPPs continues to gain momentum and is being aligned with the government objectives to grow the economy significantly and create the potential for job creation on the scale government is targeting. A further key component of the Renewable Energy Independent Power Producer Procurement programme (RE IPPPP) and Green Economy is localisation of supply and the associated development and growth in the manufacturing sector of South Africa. The first round of 28 RE IPPPP projects generating 1 400 MW and valued at R47 billion was concluded in November 2012. The Ministerial Determination which accommodates power generation from sugar cane fibre was published in December 2012. It is likely that the Request for Bids is expected to be completed by the end of 2013.
In the medium term, ethanol is perhaps the largest expansion opportunity which the sugar industry in SADC faces. This offers governments of the region an excellent opportunity to create jobs and improve the lives of rural communities. If SADC were to follow the Brazilian model over the next 20 years, with 60 percent of petrol being derived from ethanol and all growth in demand captured by ethanol, it would require the construction of about 120 mills the size of the Felixton mill, create 1,8 million new direct jobs, and create at least as many indirect jobs. The associated power generation would be equal to Medupi and Kusile combined. For South Africa, it would provide between 13 and 25 percent of the required carbon footprint reduction needed to meet the target which South Africa has committed to.
Unlike electricity generation, which can be started from a South African perspective large scale ethanol production as described above requires a regional ethanol regime. Some 70 percent of the market for ethanol lies in South Africa, with the bulk of the production potential lying within other SADC countries such as Mozambique, Zimbabwe, Zambia and Angola. The starting point therefore is a biofuels strategy within South Africa which takes into account these dynamics. Tongaat Hulett is continuing to work with the South African Government to promote this regional strategy.
During 2012, the regulations for blending biofuels in South Africa were published, and it is planned that the support mechanisms for the South African market will be finalized and implemented by the end of 2013. Tongaat Hulett has continued to engage with various key government departments in terms of the design and implementation of the support mechanisms.
The company's aspiration over some 10 years is to complete the construction and commissioning of a large scale electricity plant at each of its South African mills and to install at least one large scale bio-ethanol plant at one of its mills. Given the current anticipated programme for procurement of electricity from sugar cane fibre, it is anticipated that Tongaat Hulett will commence investment in its first electricity plant in 2014/15.
DEVELOPING PRIVATE FARMERS
Tongaat Hulett's land footprint in the region provides the business with an opportunity to interact and partner with governments and rural communities in the development of innovative practical approaches that transform society and the environment thereby uplifting communities. To date, these partnerships have seen the company working with governments and communities in Mozambique, South Africa and Zimbabwe in developing farming models with sugar cane as the primary crop and staple foods like maize and vegetables as secondary crops. The existing models include the provision of procurement support for key raw material inputs. As the company continues to work with its stakeholders in this area, further opportunities including the use of technology and improving the level of financial acumen of small-scale private farmers will be explored and progressed.
LAND CONVERSION
Tongaat Hulett has placed a major emphasis on the need to increase the pace of conversion while establishing, maintaining and entrenching appropriate value benchmarks and value contribution for all stakeholders. In South Africa, some 8 500 developable hectares (some 13 500 gross hectares) have been identified for conversion to other uses when conditions are appropriate. This conversion process takes place over a number of years and the land remains under sugar cane until the transition to development takes place. The company recognises the social, economic, ecological and political significance of this land to many stakeholders and hence is committed to ensuring that this land is optimally utilised as productively as possible and in accordance with the relevant local context.
The rising expectation for affordable housing in South Africa will continue to impact the business as it transitions from agricultural land with development potential to property development. Durban/eThekwini, South Africa's third largest city has a current population of approximately 3,5 million people and a housing backlog of some 400 000 units. These factors are contributing to ongoing expansion into Tongaat Hulett's land holdings both to the north and west. This creates opportunity within the eThekwini Municipality and surrounding local and district municipalities for the business to respond proactively within its land conversion portfolio in formulating and implementing responses that maximises delivery, in respect of the needs of communities of lower socio-economic status. The King Shaka International Airport, with its ability to attract direct international flights and the development of the surrounding Dube TradePort are providing further impetus for this growth.
Tongaat Hulett shares with Government, communities and other stakeholders a pressing need for an increased number of hectares to be available in an "active development" state, meaning that investment or building work could commence on such land with a high level of confidence and within a short timeframe ("shovel-ready"). Getting land to such a condition involves a number of overlapping processes involving local, provincial and national government departments and community stakeholders. A primary objective of the development operation is a significant increase in the number of hectares of land in such an "active development" state. The process employed consists of aligning planning with Government policies and objectives and community aspirations; achieving EIA approvals and release from agricultural and other restrictions over large land parcels; thereafter in a phased manner, obtaining final zoning and subdivisional approvals over portions of land in anticipation of projected demand for different land uses as informed by interface with market players. The extent and pace of these processes has increased substantially and it is anticipated that by December 2014, Tongaat Hulett will have more than
1 000 additional developable hectares of active development land (before land sales).
SOCIAL SUSTAINABILITY AND INNOVATION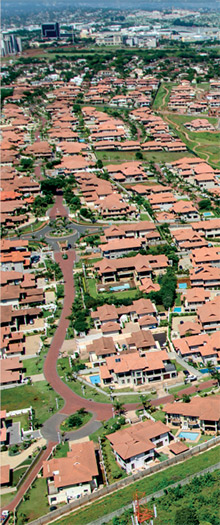 Izinga Ridge
With a significant number of the business operations being located in rural communities including Mozambique, Zimbabwe and the north coast of KwaZulu-Natal, there is a strong focus on facilitating the development of successful indigenous private farmers. This process, which is ongoing, will ensure that private farmers receive the support required for them to be sustainable into the future and include actions related to unlocking land for sugar cane development and grant funding from Government. Tongaat Hulett is of the view that as the business continues to empower indigenous private farmers, it is positively impacting the communities that surround these cane growing operations. In keeping with this objective, the company has already seen the benefit of partnering with private farmer communities and BancABC in developing indigenous sugar cane farmers through its SusCo project in Zimbabwe. The recent signing of a cooperation agreement between Tongaat Hulett and the Ingonyama Trust Board (ITB), which is the custodian of some 2,7 million hectares of communal land in KwaZulu-Natal, is an important indicator of the business's ongoing commitment to partnering with key stakeholders in the development of successful indigenous private farmers.
The evolution of Tongaat Hulett, in continuing to be regarded as a responsible corporate citizen, has over many years seen the business grow to the place where it embraces: Corporate Governance, through continuing to adhere to legal and accepted business practices as embodied in the principles of the King III corporate governance framework; Corporate social responsibility, through demonstrating responsibility to society by minimising any negative impacts and extending philanthropic and charitable inputs to the communities that the business operates in; and, Social sustainability and innovation, by developing innovative practical approaches to transform society and the environment, thereby uplifting communities. Tongaat Hulett follows a philosophy of creating value for stakeholders and continues to make good progress in entrenching and enhancing the various programmes and initiatives that it has in place in the areas of safety, health, environment, shareholder, farmer, community, government, employees and other relationships.
The business has made substantial progress from the time when every part of the company had their stand-alone initiatives in place to uplift business excellence. Tongaat Hulett will continue to build on the momentum that has been developed in this area. It has become evident that the company operates far more productively within a "one-company culture" as opposed to multiple operating companies. This has also been evident in relation to interchangeable products that are manufactured from sugar cane and maize. Capital structure (equity, debt and empowerment initiatives) continues to be developed and evaluated within the context of the "one-company culture".
The safety and the welfare of all employees remains a key priority, as the business strives towards establishing an organisational culture with a zero harm approach. Tongaat Hulett subscribes to principles of sustainable development, which encompasses safety, health and environment. The company's participation in various sustainability reporting initiatives, including the Carbon Disclosure Project (CDP), the CDP Water Disclosure Project, the Nedbank Green Fund and its listing on the JSE's Social Responsibility Investment index for the ninth consecutive year, is testimony to Tongaat Hulett's approach to sustainability and stakeholder value creation.


top of page