HEALTH
Tongaat Hulett continues to provide comprehensive healthcare programmes that include environmental health, occupational health, primary health and general wellness.
HIV and Aids
HIV and AIDS still remains the single biggest health challenge. While all operations now have Voluntary Counseling and Testing ((VCT) / HIV counseling and Testing (HCT)) and Anti-Retroviral Treatment (ART) being offered in one way or another, varying models of HIV and AIDS management are employed at the various centres. The company is working towards introducing a single HIV and AIDS Management Standard which will ensure uniformity throughout the various operations. The South African National Standard for Wellness and Disease, including TB and HIV Management System (SANS 16001: 2013) is being evaluated and plans are underway to implement this standard throughout Tongaat Hulett.
Male Medical Circumcision (MMC) in combination with other HIV preventative measures, has been shown to reduce the transmission of HIV in men by sixty percent and in light of this, the business is encouraging MMC to its employees. Chronic non-communicable or "lifestyle" diseases, such as diabetes and hypertension, are noted to be an issue of concern. The introduction of SANS 16001:2013 will also assist in developing a systematic approach to managing these conditions.
The VCT / HCT campaign is well entrenched as demonstrated by an uptake by 83 percent of the company's employees during the year under review. The company's commitment to the ART programme is reflected through spend of R1 926 793 extended to this exercise for employees participating in 2012/13.
Malaria
In Mozambique, Swaziland and Zimbabwe, malaria remains a significant health risk. The operations in Swaziland and Zimbabwe continue to successfully implement integrated malaria control programmes that include vector control, awareness, personal protection, diagnosis and treatment. The prevention of mosquito bites is one of the key elements in the fight against malaria, and in this regard, every affected operation is facilitating anti-malaria spray programmes and access to mosquito bed nets by every household member at Tongaat Hulett operations. The effectiveness of current malaria interventions was demonstrated by a 55 percent reduction realised in malaria cases attended to at the Zimbabwe operation medical facilities between 2011/12 and 2012/13 fiscal years.
Occupational Health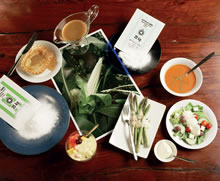 Starch and glucose are used in a range of
food products
Occupational health risk assessments identified noise, dust and chemicals as principal risks requiring effective interventions. Active steps are being taken to prevent the occurrence of occupational diseases, particularly those resulting from exposure to principal risks. All operations have established occupational health management systems that are certified to either NOSA systems or OHSAS 18001. Medical surveillance programmes are revised every year and continuously being monitored to ensure that employees exposed to high risk activities are not negatively affected by inherent occupational health risks. Surveillance programmes also provide an opportunity for urgent medical interventions to be taken and reverse early detection of symptoms of occupational illnesses.
Resources are being mobilised at operations to provide for reliable and effective emergency Medical Response systems, which are essential for ensuring appropriate early management of injuries to potential workplace accident victims.

top of page