PROMOTING SUSTAINABLE AGRICULTURE
Tongaat Hulett is using sustainable sugar cane agriculture practice to promote and increase good practices that are environmentally sustainable. The practices seek to protect the natural resource base, prevent degradation of soil and water, conserve biodiversity, ensure a safe and high-quality supply of agricultural products and consequently safeguards the livelihood and wellbeing of agricultural private farmers, employees and their families.
To meet the needs of the growing population, agricultural production must double by 2050. This challenge is made even more daunting by the combined effect of climate change and increasing competition for land, water and energy sources. Tongaat Hulett supports a multi-stakeholder approach to sustainable agriculture that will help to protect its supply chain, as well as create successful farming communities. It has direct relationships with numerous private farmers in three countries to whom it provides agronomy support. This support includes providing quality seed cane as well as guidance on crop management, soil and water protection and environmental best practice. Where appropriate, the World Wildlife Fund standards are used to facilitate training of private farmers in order to ensure that sustainable principles are employed.
There is ongoing interaction with the South African Sugar Association and South African sugar cane Research Institute, to ensure that sustainable farming methods are practiced at Tongaat Hulett operations. Fertile soils are important for carbon storage and by employing good farming practices, soil erosion and greenhouse gas emissions are reduced. Through cropland management and modern soil conservation methods the agriculture department is able to ensure increased yields and the sustainable supply of sugar cane to its mills.
The company practices different conservation methods, such as minimal tillage, implementing land use plans and every field that is planted is assessed to ensure that soil conservation structures are maintained in the field. In selected areas, depending on soil conditions and other agronomic influences, a range of cover crops are used to improve soil conditions at planting, provide assistance with the control of weeds and in certain cases improve nitrogen availability to the subsequent sugar cane crop. This results in improved cane yields and improved soil conditions in a sustainable fashion.
Environmental Compliance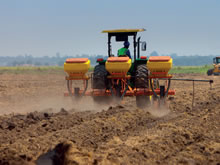 Promoting sustainable agriculture
There were no material incidents, fines or non-monetary sanctions for non-compliance with applicable environmental regulations during the year under review. The established community liaison forums between Tongaat Hulett and interested parties continue to address environmental related complaints. Level 1 environmental complaints are those that are deemed 'minor' and refer to the number of times operational activities resulted in isolated public complaints. Although a response is triggered, Level 1 complaints do not require remediation plans. Level 2 complaints refer to operational activities that result in widespread public complaints or attention from media. Both a response and remediation plan is triggered in the event of a Level 2 complaint.
During the reporting period, Tongaat Hulett experienced 559 Level 1 complaints and two Level 2 complaints. One of the Level 2 complaints was received at the Maidstone Sugar Mill and another one was received at the Xinavane Sugar Mill. Incidents of illegal dumping at the South Africa agricultural operations remain the major contributor to Level 1 incidents.
The Maidstone complaint related to an irrigation pipe burst. The remedial actions implemented included clean-up and remediation of area affected, together with a repair of the pipeline. Implemented action plans were communicated to relevant authorities and stakeholders and a long term plan regarding the future of irrigation in this area is currently under review.
The second Level 2 complaint related to environmental issues raised through a media broadcast at the Xinavane operation. There were allegations regarding water pollution of the river system emanating from mill effluent discharge. Xinavane currently conducts regular water testing both upstream and downstream of the mill operations, as well as of some of the agricultural locations. The operation uses the services of an external third party laboratory, which has confirmed that the results of the water tests continue to fall within the business's minimum standards.

top of page