Sustainability
ACHIEVEMENTS

Tambankulu Estate, Swaziland received a NOSCAR Award
New plantings in the past year increased the area under sugarcane by 13 522 hectares
Mafambisse sugar mill in Mozambique received a Gold Award in the Manufacturing Sector - NOSA Eastern Regional Awards
Hippo Valley, in Zimbabwe was awarded the NANGO award for Excellence in fighting HIV AIDS
Tongaat Hulett is the largest private sector employer in Mozambique and Zimbabwe
Maintained an LTIFR of 0,10 per 200 000 hours worked

PRIORITIES

Facilitating the development of indigenous sugarcane farmers in order to create successful rural economies in the regions that the company operates
Working with indigenious private farmers to develop a SADC appropriate farming model that will facilitate food security
Energy Efficiency and Reduction of Greenhouse Gas Emissions
Water Resource Management
Focus on safety improvement
Continued focus on Food Safety and Food Security
STRATEGY AND ANALYSIS
Tongaat Hulett is a significant regional player in agriculture and agri-processing, working with communities, Governments and other partners to meet some of the Southern African Development Communities pressing challenges including job creation, food security and the provision of energy and clean water. The business has a responsibility to operate with a long-term view that takes into account how its decisions and actions impact on the communities, habitats, and resources associated with company operations. Stakeholder value creation is taking on greater significance within Tongaat Hulett's business objectives and consequently is driving the business to operate in an increasingly sustainable manner. This approach underpins the manner in which the company develops and operates its emerging projects, existing facilities and the way it manages its supply chains. There is consequently direct benefit to the company and its stakeholders as the improvement in management's performance and operational efficiency enables it to reduce risks that could impact the realisation of the business' strategic goals.
With a significant number of the business operations being located in rural communities including Mozambique, Swaziland, Zimbabwe and the North Coast of KwaZulu Natal, there is a strong commitment to facilitate successful indigenous farmers in these areas. Tongaat Hulett is continuing to work with these communities as they strive to identify farming models best suited to SADC. At this stage, small-scale farmers working in cooperatives are increasingly seeing the benefits that can be derived from farming sugarcane on a large scale, while at the same time their basic food requirements are being ensured by way of farming staple foods like maize and vegetables around their sugarcane crop. The company works with its private farmer communities and provides extensive support by way of farming techniques and the provision of agricultural supplies including fertilizer for both sugarcane and other staple food crops. An example of this is the business's partnership with the KZN Department of Economic Development and Tourism (KZN DED&T) in developing black sugar cane farmers through its Operation Vuselela project (vuselela meaning 'revival' in Zulu) on the North Coast of KwaZulu-Natal.
The business has identified that it can and does play a key role in the socio-economic development of rural communities. As the company continues to progress its contribution in this area, it remains aligned to the objectives of Governments who are increasingly requiring that the private sector contribute to the social well-being of rural communities.
The protection of the environment is a key element of Tongaat Hulett's operational principles and therefore the company seeks to go beyond compliance with environmental regulations and strives to meet internationally accepted best practice. The business considers the management of its opportunities and risks in the environmental, social and economic spheres as fundamental to its future success. This commitment has been reinforced through continued improvement in the company's engagement with all stakeholders.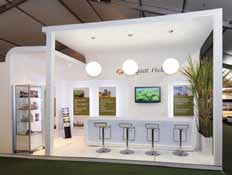 Tongaat Hullet stand at COP17 Durban
In the context of operating in an increasingly dynamic world, where issues such as climate change adaptation and mitigation are taking on greater relevance, stakeholders expect that Tongaat Hulett will act in a fair and responsible manner. The company recognises its responsibility to contribute to the health and safety of employees and the principles of fairness, integrity and respect are core to dealing with employees, in as much as the company is committed to minimising adverse impacts on the environment. Regular reviews of existing initiatives and measurements of performance are the norm.
South Africa hosted COP17 in Durban from the 28 November to 9 December 2011 with more than 25 000 delegates from 193 countries drawn largely from governments, business and academia attending the convention. Many more converged on KwaZulu-Natal to attend the many side events and exhibitions timed to coincide with the United Nations climate change conference. Tongaat Hulett participated in COP17 through its association with the National Business Initiative (NBI). The event provided an opportunity for the company to showcase its products and activities to a global audience and demonstrate its commitment towards transforming its operations to a low carbon future.
The company is in its third year of focusing on the following key strategic sustainability related parameters:
Contributing to the development of successful rural communities, including indigenous farmers of sugarcane and other staple food crops, within the areas that surround business operations .
Training and support for private farmers on better farming practices, resourceful land use to ensure food security. This includes training youth from rural sugarcane communities on relevant agronomy techniques.
Effectively managing the opportunities and risks created by climate change and responsible carbon management .
Ensuring that management continues to be empowered to address sustainability in all facets of the business.
Managing water resources and increasing resource efficiency in a responsible manner.
Playing an active role in the renewable energy sector in the region.
Ensuring that its products meet required food safety standards.
Creating sustainable cities, towns and rural settlements.
Creating operational efficiencies, cost management and effective procurement.
The attainment of these parameters is underpinned by the company's employees who play a substantial role in implementing various strategies over the medium term. In order to ensure that Tongaat Hulett delivers on its strategic objectives, the company will continue to create an enabling environment that allows high performing employees to excel, while offering equal opportunities for growth and development. The company is on an evolving journey to play a significant role in transforming the region and meeting future growth opportunities in a sustainable manner. To this end, Tongaat Hulett has created 4 382 job opportunities since 2007 (41 777 employees as at 31 March 2012, 37 395 as at 31 December 2007).
Key impacts, risks and opportunities
The current operating environment has many challenging and changing elements, especially in the context of the global economy, peculiar localised dynamics and evolving environmental and social factors. Maximising the emerging opportunities from these risks is possible once the appropriate risk mitigation strategies and processes have been developed and implemented. Further information regarding the business's approach to risk management has been included in the governance section of this report.
| | | | | | | | |
| --- | --- | --- | --- | --- | --- | --- | --- |
| KEY IMPACTS | | | RISKS | | | OPPORTUNITIES | |
| Skills Development | | | In a competitive job market, staff may be lost to external opportunities. | | | Investing in talent management and people development is a key priority to retain skills and becoming an employer of choice. | |
| Workplace Safety | | | Unsafe working environments and inadequate safety awareness can lead to a high injury rate. | | | Continuously improving safety performance and instilling a safety-focused culture. | |
| Climate Change | | | Physical, regulatory and reputational risks associated with climate change present risk to our operations. Changing weather patterns may affect crop yields. | | | Improving value chain efficiencies such as energy, production and transportation can reduce operating costs and limit the potential financial impact. | |
| Water Resources | | | As an agri-processing business the industry relies on quality water resources to grow sugar and process finished products | | | Water use reduction will improve the operating efficiency and reduce company exposure to water related dynamics. | |
| Food Safety | | | The company's reputation may be adversely impacted if manufacturing processes are inappropriate. | | | The company's third party certifications, for example HACCP/GMP ensures the application of leading production processes. | |
Reporting boundaries
Following the most recent integrated annual report, published for the period 1 April 2010 to 31 March 2011, this report covers all of Tongaat Hulett's operations in Botswana, Namibia, Mozambique, South Africa, Swaziland and Zimbabwe for the 12 months ended 31 March 2012. Tongaat Hulett's geographical presence is available here.
For the reporting period, wherever possible, quantitative performance data for key sustainability indicators is provided. Due to the shift from a 15-month reporting period in 2009/10 period, it has been decided that the 2011 data will become the baseline for comparative purposes.
The report has been prepared in accordance with the Global Reporting Initiative (GRI), and meets the requirements of their B+ reporting level and has been independently assured by SustainabilityServices. Sustainable development aims to meet the needs of the present without compromising the ability of future generations and Tongaat Hulett is firmly committed to advancing these principles.
Organisational profile
The company is an agricultural and agri-processing business, which includes integrated components of land management and property development. With its established and growing operations, it has considerable expertise in downstream agricultural products, biofuel production and electricity generation.
Tongaat Hulett has more than 42 000 employees, working in 27 locations in 6 SADC countries, South Africa, Botswana, Namibia, Swaziland, Mozambique and Zimbabwe. The water-food-energy nexus is a dynamic that presents both opportunities and risks. The business is well positioned to deliver integrated solutions that will transform the way that sugarcane and maize is grown in the region, and extend its contribution beyond increased yields.
Previously known as The Tongaat-Hulett Group Limited, Tongaat Hulett Limited was formed when the Tongaat Group Limited merged with the Huletts Corporation Limited. The Tongaat Group Limited evolved from a partnership between Edward Saunders and W J Mirrlees, which dates back to 1875, while the Huletts Corporation has its beginnings in the 1850's. Tongaat Hulett has a primary listing on the Johannesburg Stock Exchange, which dates back to 1952, and a secondary listing on the London Stock Exchange, which dates back to 1939.
The business's key focus areas of sustainability include stakeholder value creation, safety, health, environment, developing successful indigenous farmers, broad based black economic empowerment, human resources and skills development, talent management, employment equity, socio-economic development, stakeholder engagement and corporate governance.
The company is committed to ensuring the safety of its employees. In spite of this commitment, there were unfortunately two fatalities for the year ended 31 March 2012. Tongaat Hulett continues to roll out its safety plans, which focus on high risk areas, including the identification of high risk activities and additional interventions in order to minimise a recurrence of these types of incidents.
Tongaat Hulett's corporate office is located in Amanzimnyama, Tongaat, KwaZulu-Natal. During the reporting period there were no significant changes in the size, structure or ownership of the company and the business grew the extent of land under sugarcane supplying its mills and the number of people that it employs.
where we operate

Botswana, Namibia, Mozambique, South Africa, Swaziland and Zimbabwe

leading brands

Some of Tongaat Hulett's most popular brands are Amyral maize starch, Voermol, Hyclear glucose syrup, Zimbali, Izinga, Cornubia, Huletts, Blue Crystal, Marathon, Equisweet, SUGAlite and Sugar Joule.

value chain



top of page