ECONOMIC SUSTAINABILITY
BUSINESS APPROACH AND EMPOWERMENT AND INDIGENISATION
Tongaat Hulett's capacity to create stakeholder value depends, among other factors, on its ability to deal effectively with the sustainable indigenisation of the agriculture sector through the development of local farmers in Mozambique, Zimbabwe and South Africa, including post settlement solutions in the land reform programme. The creation of added value through future-oriented, proactive behaviour and giving importance to the needs, interests and expectations of all stakeholders provides the company with the ability to achieve its strategic objectives with the support of its stakeholders.
While the business acknowledges the role that it has to date played in the creation of value for its stakeholders it recognises that, in particular, as a key partner with Governments, private farmers, and rural communities, it can in conjunction with the achievement of its strategic objectives, further contribute to the achievement of its stakeholders goals. This includes job creation, poverty alleviation and the development of successful rural communities as it works together with Governments and private farmers to increase the supply of sugarcane to its various operations.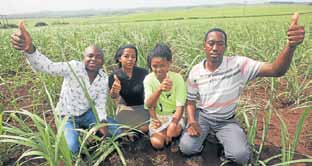 CASE STUDY
FIRST-TIME SUGARCANE FARMERS: NOAH NYAWO, 24, ANELE MTHETHWA, 20, NOMTHANDAZO NENE, 21 AND SIPHO MAGAGULA, 35.
Determined young novice farmers generate R1.2m from their first
harvest. Noah Nyawo, 24, and his seven young friends did not think they would hit the sweet spot so soon after receiving the keys to a R24-million sugarcane farm in KwaZulu-Natal in February last year. At the time, the government told them to roll up their sleeves and turn the 250ha farm, Jengro estates in KwaMbonambi in northern KwaZulu-Natal into one of the country's most successful land reform projects.
Report by: Bongani Mthethwa, picture by: Thembinkosi Dwayisa.
For further details: www.tongaat.com/2012/youth_farmers.pdf
B-BBEE Scorecard
Score
Element
2009/2010
2011
2012
Equity Ownership
21,59%
18,16%
17,34%
Management & Control
7,80%
8,43%
8,43%
Employment Equity
10,18%
11,54%
11,69%
Skills Development
5,96%
10,19%
12,14%
Preferential Procurement
12,70%
18,17%
15,58%
Enterprise Development
15,00%
15,00%
15,00%
Socio Economic Development
5,00%
5,00%
5,00%
Total
78,23%
86,49%
85,18%
BEE Level Rating
3
2
2
The company continues to make good progress by building on its proud history of numerous meaningful and sustainable broad based Black Economic Empowerment (B-BBEE) initiatives for the benefit of all stakeholders. Steps continue to be taken to ensure that processes and measurements within the company are aligned with the relevant regulatory requirements and the South African Department of Trade and Industry's Codes of Good Practice. Where applicable, operations have been involved in the formulation of relevant industry/sector scorecards.
Tongaat Hulett established the Employee Share Ownership Plan (ESOP) and Management Share Ownership Plan (MSOP) schemes for the benefit of all South African black employees and senior black management respectively. These schemes are scheduled to vest in August 2012.
The introduction of B-BBEE equity participation in 2007, included an 18 percent participation by B-BBEE groupings: Ayavuna Women's Investments and the Mphakathi Trust, which benefits the communities surrounding the Tongaat Hulett property developments, Sangena Investments and the Masithuthukisane Trust, which benefits the small scale cane grower communities surrounding Tongaat Hulett's four South African sugar mills.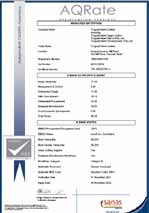 The fifth B-BBEE rating audit by AQRate was conducted in 2011 with Tongaat Hulett being categorised as a Level Two Contributor, with an overall score of 85,18 percent compared to the previous year's score of 86,49 percent. This means that entities purchasing from Tongaat Hulett may recognise 125 percent of the value of their Tongaat Hulett purchases in the procurement element of their scorecards. Going forward, reporting systems and targets will continue to be reviewed to ensure maximum alignment with the elements of the Codes of Good Practice. The highlights of the accreditation are the improved scoring in skills development and employment equity. Management will continue to work towards maintaining this level of performance. Tongaat Hulett believes that B-BBEE is essential to the sustainability of its South African operations, as well as the prosperity of South Africa and its people.
Transformation, equal opportunity and the creation of a diverse employee profile remain key performance areas in every geographical region where Tongaat Hulett operates.
INTELLECTUAL PROPERTY
Tongaat Hulett's intellectual property is protected through employment contracts and confidentiality agreements and/or license agreements with external parties. These agreements establish ownership of and rights to trademarks, copyright, trade secrets, innovations and inventions resulting from any dealings with the company. In the sugar operation, a portfolio of patents is managed by a knowledge management specialist in consultation with patent attorneys. Protection of patentable ideas is achieved by immediately taking out provisional patents, with targeted national and international patenting agencies.
SUSTAINABILITY SUPPLY CHAINS
Supply chains are becoming progressively complex in light of evolving socio-economic and legal-political imperatives within individual countries and regions in which the business operates. Until recently, supply chain strategies, decisions and choices within Tongaat Hulett have been based primarily on optimising price, quality and availability. Aware of the various internal sustainable development initiatives and evolving global conversations around key sustainable development themes that include climate change issues, social and economic inclusiveness, Tongaat Hulett's supply chain management philosophy is being redefined to ensure that all supply chain decisions complement various sustainability initiatives. This implies that all supply chain strategies, policies and decisions would be required to take into account reputational, environmental and social impacts in their execution. To this end a robust sustainable supply chain policy framework is being developed to give structure to this initiative and to provide a baseline against which specific and quantifiable sustainable supply chain metrics can be tracked and reported to stakeholders.
Although a comprehensive Sustainable Supply Chain framework is still being developed to give direction and momentum to these issues, considerable progress is already being made in both South Africa and Zimbabwe through procurement initiatives that seek to leverage and promote social and economic equity as well as to minimise negative environmental impacts.
PREFERENTIAL PROCUREMENT IN SOUTH AFRICA
The objective of Preferential Procurement under the Department of Trade and Industry's current Codes of Good Practice includes the promotion of BEE compliance by all entities and targets for procurement from Exempted Micro Enterprises (EME's), Qualified Small Enterprises (QSE's), black-owned and black women-owned enterprises. Furthermore, with enhanced recognition given for Preferential Procurement from value adding suppliers and enterprise development beneficiaries, the procurement of locally produced goods and services is actively supported to assist in developing sustainable income streams for such new entities thereby.
Tongaat Hulett is committed to supporting suppliers and to improve their empowerment credentials and introducing Small Medium Enterprises (SME's), black-owned and black women-owned suppliers to the business. The preferential procurement score element was set at 15,58. In respect of the Procurement Scorecard for Tongaat Hulett and based on the period ending 31 March 2011 expenditure, out of a total available spend (defined as total procurement spend less spend on parastatals and the importation of goods not locally produced) of R4, 589 billion, BEE procurement spend from all suppliers based on BEE procurement recognition levels as a percentage of total measured spend was R2, 919 billion (63.62 percent).
Spend with companies which are more than 50 percent black owned totalled R203 million, whilst spend with QSE's or EME's totalled R928 million. Spend with companies which are more than 30 percent owned by black women was R70 million.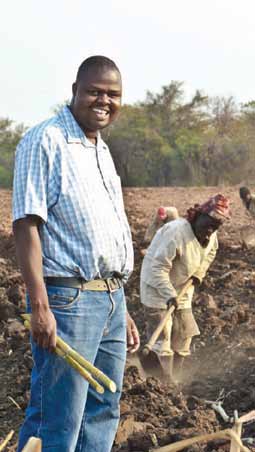 Seed cane planting at Hippo Valley
SUSTAINABLE PROCUREMENT INITIATIVES - ZIMBABWE
Tongaat Hulett has elected that after considering the many social and economic imperatives, there is a compelling need for the business to source environmentally friendly goods/services and procure from local suppliers. Buyers and end users are encouraged to discuss, share ideas and research new products, processes, services, modes of transport and evolving technologies that not only optimise the economic imperatives of efficient and effective sourcing but also seek to minimise negative environmental and social impacts.
In response to changing socio-political dynamics in Zimbabwe, Tongaat Hulett is committed to supporting local suppliers of goods and services. A procurement policy is in place that gives support and preference to suppliers based within a 100km radius of company operations in the Lowveld as well as for all other local Zimbabwean companies. The business proactively encourages larger foreign suppliers to partner local companies as distributors or technical partners in order to support the "Buy Zimbabwe" campaign which is an effort to encourage purchases of local goods and services supported by organised business, Government and communities with a view to creating employment whilst at the same time addressing gender and social inequalities.
ENTERPRISE DEVELOPMENT AND TRANSFORMATION IN AGRICULTURE
Tongaat Hulett's approach to creating successful rural communities aims to promote thriving communities, successful farmers whilst preserving the environment. The company works at both community and farm level to improve yields, create jobs and contribute investment through partnerships with Governments.
The partnership of Tongaat Hulett and KZN Department of Economic Development and Tourism (KZN DED&T) is a prime illustration of value creation. In the 2009/2010 planting season operation Vuselela was initiated with the ultimate goal of planting 3 534 hectares of cane by the end of the first three year period. The project has now been extended by an additional year. As at 31 March 2012, a total of 2 341 hectares have been planted since the project started with 955 hectares planted in the 2011/12 season. Since the commencement of the project, more than 2 000 small medium sugarcane farmers, who were previously unemployed, have been established. Over a ten year period these new sugarcane farmers will employ at least 726 permanent and more than 6 000 seasonal employees. As at 31 March 2012, 1 664 small medium sugarcane farmers have been trained in sustainable farming practices and other agri-processing disciplines in-order to increase productivity and resource efficiency creating sustainable rural economies beyond the project term.
KZN DED&T contributed R51,8 million of which R22,4 million has been spent. Tongaat Hulett's cash contribution is R13,6 million and its' indirect contribution in the form of technical, managerial and logistical support over a four year period is in excess of R20 million.
The starch operation has been involved in the Ithuba Farming Project for the past five years which was aimed at the development of commercial black maize farmers. As at 31 March 2012, some 30 farmers from previously disadvantaged backgrounds have been trained as part of the activities of the scheme. The project is being reviewed in order to take account of the knowledge that has been acquired over the past few years and to identify opportunities to improve the output of the project. The training farm at the operation's Kliprivier mill is being maintained in order to implement a more holistic farming model.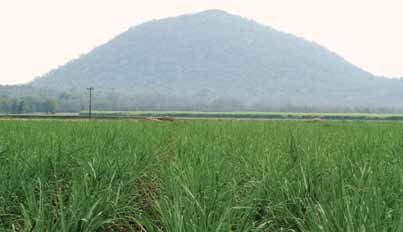 Young cane growing in the Lowveld, Zimbabwe
SOCIO-ECONOMIC DEVELOPMENT
Tongaat Hulett management across operations recognise that Socio-Economic Development (SED) is an integral part of the way in which the company does business. This is relevant in the context of an organisation that is a significant role player, both in terms of the number of people that it employs and the large number of external stakeholders that are impacted by company operations in the SADC region. In progressing the company's strategic objective of being a key contributor in the creation and maintenance of successful rural communities the company's Socio-Economic Development initiatives are aimed at building and enhancing the quality of life of people, with emphasis on disadvantaged communities within which the company operates.
The reporting period highlighted the significant contribution that Tongaat Hulett continues to make towards the welfare of its employees and the communities that surround company operations in Zimbabwe, Swaziland and Mozambique and consequently some 81 percent of total SED spend was invested in these countries.
During the reporting period R47,8 million was spent on health and welfare activities which includes costs associated with the two company managed medical facilities, the Hippo Valley Medical Centre and the Colin Saunders Hospital in Triangle, Zimbabwe. These facilities provide both preventative and curative health services to the surrounding communities and on average some 200 000 patients are seen on an annual basis. Environmental health programmes to reduce the incidence of malaria and bilharzia through routine spraying campaigns were undertaken in the communities that surround company operations. The business continues to ensure that safe drinking water is available for local communities and the provision of refuse collection services is undertaken by Tongaat Hulett.
Numerous schools are located in and around the operations and some R4,1 million was spent on education which included costs for repairs to schools, stationary and education support. The Zimbabwe operations provide support for 21 schools with an enrolment of just under 12 000 pupils, the Swaziland operation supports 2 schools, while the Xinavane and Mafambisse operations provide support to the local schools that are in close proximity to company operations.
As part of the company's activities in Zimbabwe and South Africa to increase the supply of sugarcane to operations Tongaat Hulett has undertaken a number of initiatives in these countries to provide SED funding for rural communities:
In Zimbabwe, roads in the Mkwasine area were re-graded and 13,5 kms of roads to the Chilonga Communal Lands were graded. In addition, the operation purchased a new ambulance to provide medical services to the Mkwasine area and hospital beds in the Mkwasine clinic were replaced.
In South Africa, a significant amount of work is in progress in a number of areas including the Ndwedwe area, where the company is supporting the role out of the HIV&Me project at 10 schools in the area. The programme provides participatory and interactive training experience to educators on the eight HIV&Me lessons and also encompasses the implementation of a Family Support Programme. This programme builds on the school based intervention by enabling parents to develop better communication channels with their children and thereby facilitate the disclosure of their HIV status.
The total SED Spend for the 12 months to 31 March 2012 including the cost of company sponsored occupational and primary health care services was R79,5 million. This was above the company's commitment to allocate one percent of annual headline earnings to SED on a company wide basis annually.
VALUE ADDED ANALYSIS

FOR THE YEAR ENDED 31 MARCH 2012

Rmillion
2012
2011
Revenue
12 081
9 681
Bought-in materials and services
(7 893)
(6 519)
VALUE ADDED BY OPERATIONS
4 188
3 162
Dividends and other income
203
570
Capital profi t on land
3
23
Capital profi t on other fi xed assets
4
TOTAL VALUE ADDED
4 394
3 759
Applied as follows:
TO PAY EMPLOYEES
Salaries, wages and benefi ts
2 081
1 753
TO PAY PROVIDERS OF CAPITAL
815
682
Interest on borrowings
527
484
Distributions to shareholders
288
198
TAX
351
261
RE-INVESTED IN BUSINESS
1 147
1 063
Depreciation
366
344
Retained earnings after distribution
to shareholders
781
719
TOTAL VALUE DISTRIBUTED
4 394
3 759
The BEE IFRS 2 charge and transaction costs have been excluded from this schedule.
FOOD SECURITY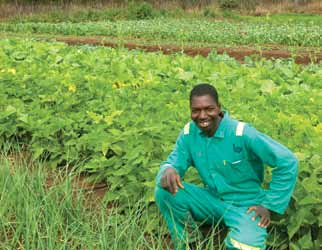 Growing vegetables in Zimbabwe to ensure food security
The business continues to operate in an environment impacted by a number of external factors. Tongaat Hulett acknowledges that energy security dynamics are closely linked to food security, water security and climate security. The Food and Agriculture Organisation released a guide highlighting the need to move to more sustainable practices as intensive crop production since the 1960s has degraded soils, depleted ground water and caused pest outbreaks. The food system is affected by environmental impacts including habitat degradation, greenhouse gas emissions and freshwater use and there is increasing evidence that crop yields are dropping.
Tongaat Hulett is of the view that a sustainable food system would be "reliable, resilient and transparent," producing food within ecological limits, developing food producers, and ensuring accessible and sufficient food supply. The company is a principal member of the World Wildlife Fund and is looking at the operational and reputational challenges that face businesses in the food sector. The business has identified that there is potential to make unconventional approaches, such as inclusive agriculture through the Vuselela Project, more commercially viable. Tongaat Hulett believes that it is capable of working with Governments and communities, towards building a sustainable food system, in the areas that it is able to impact. Delivery of this objective will require the implementation of new techniques and collaboration among farmers, businesses and Governments.
Tongaat Hulett's food security framework is based on:
Creating successful rural communities and economies
Increasing resource efficiency
Application of improved farming practices
Sustainable production systems for agriculture
Tongaat Hulett acknowledges that agriculture has a major role to play in opening the way for food security while protecting precious natural resources and contributing to rural economic growth.

top of page